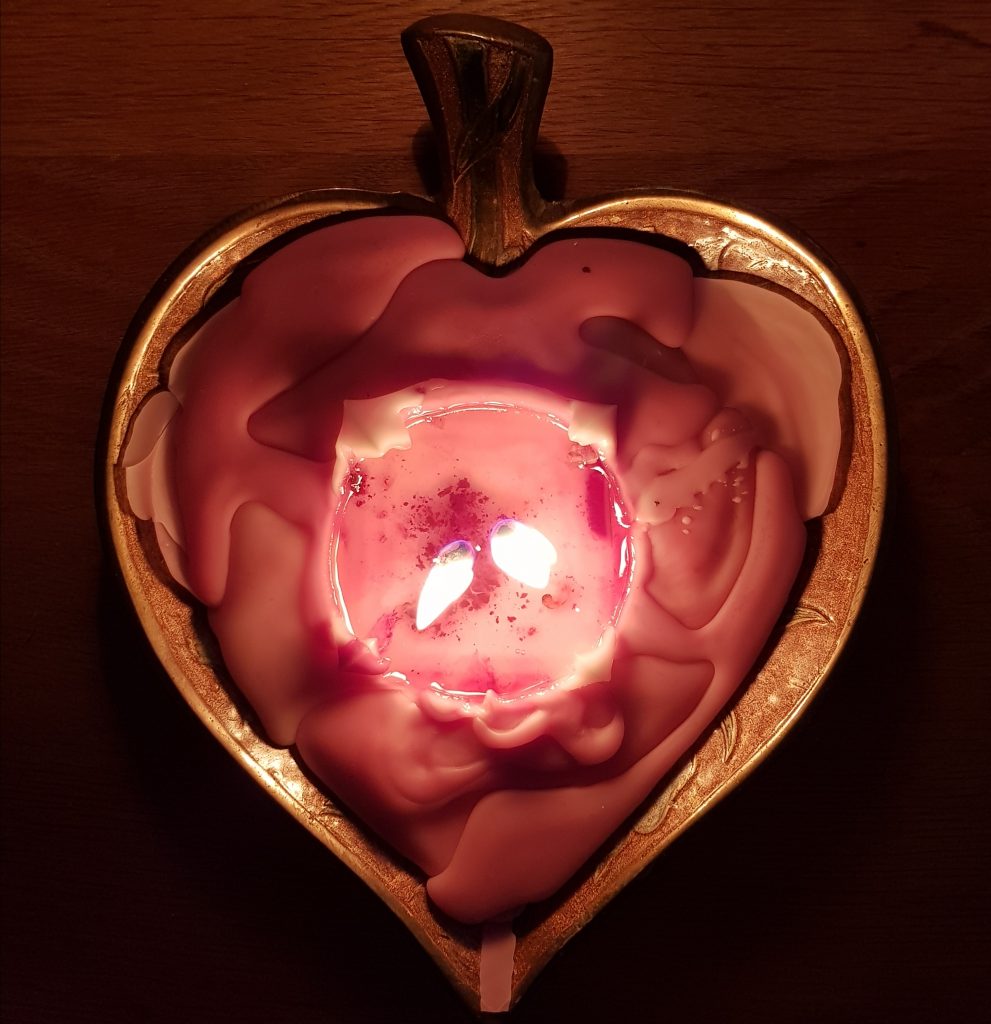 Ours is a modern love story. It started on January 1st 2017. In order to explain you the full story, I will have to start a bit earlier.
Early September 2016, I ended a relationship I had been in for over 6 years. The relationship had become so difficult for me that it made me unhappy. So I ended it. Which was hard and painful. I moved out of the house and, on December 29th, into an apartment. I was sooooo happy to have a place to call my own! No more compromises! Just me and my stuff. Nobody to take into account but myself. HA!
I got back into the habit of starting my days with a meditation, which does me a world of good. I had even installed an app on my phone: Insight Timer. I use it mostly as a timer, but sometimes I listen to a guided meditation, which is nice too.
Insight Timer has the possibility to connect to other people around the world who also meditate with the app. For example, after your meditation, you can send a short message to people who have meditated with you that says "Thanks for meditating with me". I like this function and use it almost every day. I like the idea that we are all connected, even if we are miles apart.
On the first of January last year, several people wrote me a personal message, wishing me a happy and mindful new year. One of them was a Chris from Munich. We exchanged a couple of messages, in German. Which is, to use an understatement, not my best written language. But hey, that's how you learn, and google translate was my best friend.
We exchanged some niceties, and I told him that, as far as I was concerned, 2017 was going to be a year of spiritual development for me. After a couple of exchanges, the conversation ended, and I never gave it a second thought.
In the weeks that followed, I did a lot of soul searching, and concluded that I didn't really want and certainly didn't need a new relationship. I had been in two so far. The first had ended after almost 25 years, the second after just over 6. Now that the dust was settling and the pain abating, I realised that I was quite happy with my life as it was. Single, but with a lot of good friends and family, a job that at least provided me with an income, and no one to look after but myself.
I very conciously decided to stay single the rest of my life. I had a list in my head of conditions and wishes for an if-there-is-ever-going-to-be-a-man-in-my-life-again, and the list was long. Very long. The chances of finding a man that ticked all the boxes were, I concluded, almost nihil. And if I was ever going to get into a relationship again, it would have to be with a man who really added value to my life. No more compromises.
I was happy with my analysis, and proud of myself. For I am a modern and independent woman who doesn't need a man to make her happy.
This was about the second half of January.
Beginning of Feburary, I received another message from Chris via Insight Timer. He inquired after my spiritual development. We started writing.
A lot.
An awful lot.
We asked all sorts of questions and got to know each other. I tried not to get too involved. Failed miserably. Because he seemed to tick all the boxes. And more…
For example, talking about animals, I indicated that I love animals and that they play an important role in my life. He told me had he had Husky's. Breeded them and entered in competitions with them. He had had a total of about 20 of them. This more than ticked the box "must be an animal lover".
Another example: I brought up Thich Nhat Hanh. He told me he had spend a week in Plum Village and it had changed his life. This also more than ticked a box, and even made me a bit jealous.
How could I not fall for this man?
While writing, the tension built and after a week or so, we spoke through Skype. I invited him to come visit, and he accepted, under the pretense of helping me finish my kitchen. We arranged for Friday the 17th at 18:45h at Leschede train station, which is more or less on my doorstep.
The days leading up to the 17th were absolutely nerve wracking. We continued to write serveral times a day, and called every evening. We had switched to french early on, when I discovered that Christophe is actually french. My french is better than my german, though writing is a challenge, but I have learned quite a bit over the last year.
Anyway, on the 17th, I waited for the train from Münster to deliver Christophe. Leschede is a very small train station, so I was certain to see him there. I had to wait several minutes before the train arrived. Those we amongst the longest minutes of my life… And then the train arrived, the doors opened, and we laid eyes upon each other for the very first time.
Of course I had seen pictures of Christophe and I had sent him the link to a video of me and my horse on youtube, so we knew more or less what we looked like. But still. It was the moment of truth. We had fallen in love with each other based on writing and talking. But would there be any chemistry in real life?
Apparently, yes 🙂 We've been together ever since. And I am happy to report that our love has grown as we have come to know each other better. It's been almost a year now, and from now on, you may witness the rest of our lives together through this blog.